Quality is what the customer wants
In 1996, our quest for quality, paired with the knowledge that quality is one of the deciding factors in terms of competition, led us to certify our quality management system in accordance with DIN EN ISO 9001 et seqq.
Our employees are challenged and supported through appropriate quality management methods.
Our partners and suppliers (products) are selected according to specified criteria and then permanently checked and documented.
DIN EN ISO 9001:2015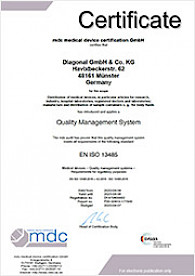 DIN EN ISO 13485:2016